*** This page might not be translated. ***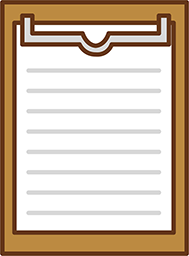 村の庵寺 その役割 
2018-02-20 20:40
村の、村たらしめるもののひとつ(私の勝手な理論ですが)が昔から受け継がれてきた宗教的なイヴェント。神道のイヴェントの代表は、収穫を祝う秋祭りや無病息災を願う儀式、そして6世紀に日本に伝えられた仏教が時代を経、地方の気候風土によって、各地の村に根付いた仏教イヴェント。子供の頃から意味もわからず、大人にまじって儀式に参加していた我が村のその一つのイヴェントが念仏はじめ。我が村では毎年1月16日に庵寺でおこなわれる。庵寺は寺の末庵でほとんどの村に存在し、この地方では、多分お庵がなまったものだろう、'おわん'と呼ばれて、村人に最も密着した存在だ。
わが村塩成の庵寺は、三机にある臨済宗妙心寺派長養寺の末庵で、臨海山宝手庵と号される。本尊は千手観音菩薩で、1717年創建と記録。が、私はお庵の中に面白い札を発見した。お札によれば'臨海山宝手庵紀元2616年再建'とある。現在が2018年ということは、単なる間違いで書かれたのか、もしくはお釈迦様誕生から2616年という意味なのか、ちょっと歴史のロマンを感じる。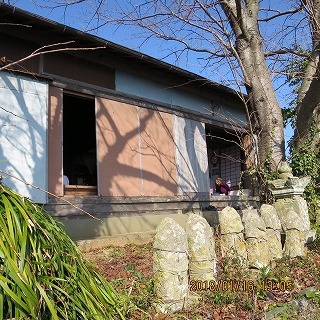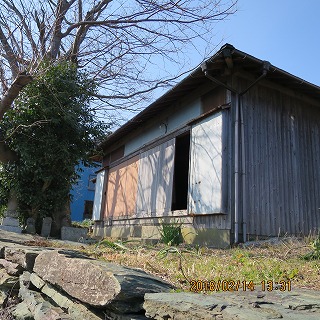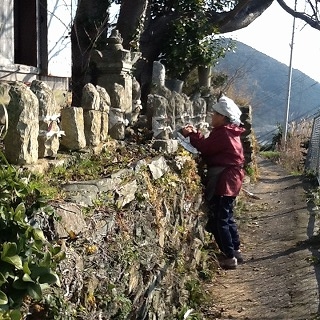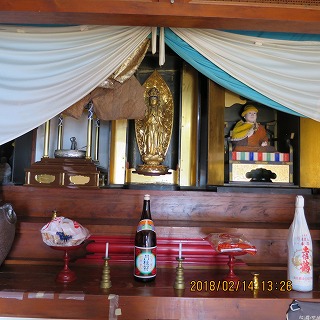 信仰深い村人、お地蔵様に前掛けをかけて。               千手観音様の隣には弘法大師様が。
わが村のお庵は江戸時代の藩政において、寺子屋として藩政教育の場であり、明治15年には三机第一分校となり、明治25年(1892年)、塩成小学校開校まで教育の場として重要な役割を果たしてきたとある。こんな小さな、今日では忘れられているかと思うような庵寺にこんな歴史があることに感動している。
私が子供の頃、庵主様がいて近所のご老人たちが、縁側でおしゃべりをしていた記憶がわずかに残っている。お庵は村人の社交の場でもあった。わが村のように、かつては庵主様がいたようだが、今日では殆どが不在で、村人たちが管理している。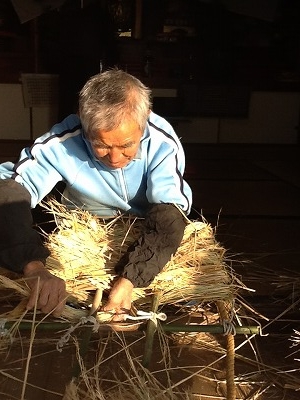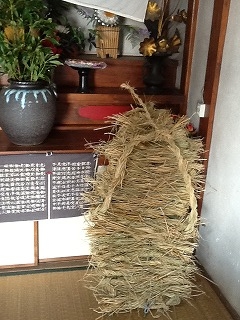 草履を編む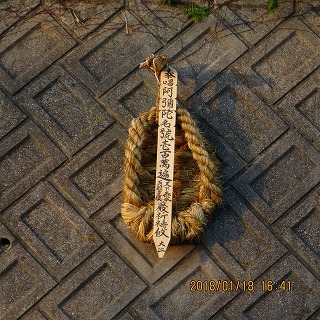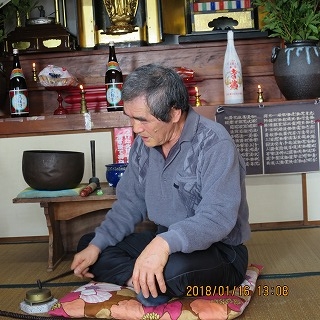 この村にはこんな大きな草履を履く巨人がいるぞ!    リーダーが鐘をたたいて念仏を先導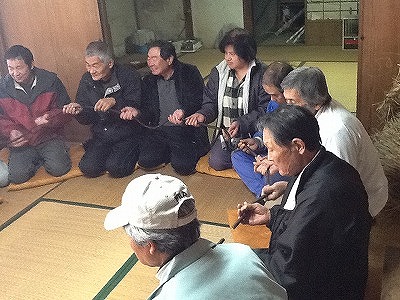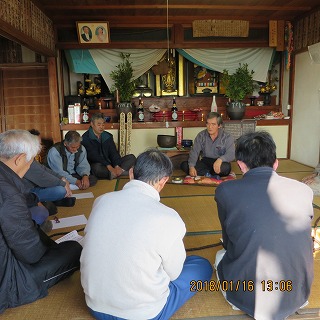 数珠を回しながら、般若心経を。                      念仏を唱える
我が村の念仏初めは、念仏の前に、大きな藁草履を編んで、村の入口に立てかける。いつ頃始めたものかわからないが、この草履の意は、よそ者に、'この村にはこんな大きな草履を履く巨人がいるんだぞ! 悪さはできないぞ! 'という脅しだそうだ。我が村だけでなく、佐田岬半島の殆どの村々の入り口にみかけられる。今の我々は笑ってしまうかわいい防犯だが、当時は大真面目だったのだろう。
そのあとで、'村の念仏'を唱え、さらに、般若心経を唱えながら数珠の輪をまわす。数珠の輪は各村によって若干異なっているようだが、基本的に108の数珠がつながれているそうだ。
私が村の村たらしめるという根拠は、私が子供の頃まで、殆どの村人が庵寺に集まり、皆で粛々とこのイヴェントをしており、村人たちの絆となっていたと思うから。今日では、様々な理由があることだろうが、イヴェントの役回りの人以外、村人は6~7人ほどもいるかいないか。こんな小さな村にいて、近所の人の安否さえも、入院をするとか、救急車が来るとかして、噂にならなければ知らないということも多い。大きな草鞋を編める人も、念仏や般若心経をそらで唱えられる人も殆ど居なくなり、数年後には誰もいなくなり、イヴェントの形は変わらざるをえないかもしれない。村そのものの存続の危機に直面する日も遠くない今日、せめて今はかつての村の人々の想いを受け継いで欲しい。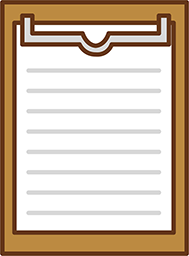 Season of Mikan (Japanese tangeline) harvesst
2017-12-10 22:26
Mikan (Japanese tangerines) were first grown in Wakayama and now grow in Shizuoka, Kumamoto, Nagasaki and Ehime as well as other locations in Japan.
The mikan grown in Ehime are, I believe, of the highest quality and the best to be found in Japan.
It is thought that mikan grow best where there is sunshine, sea breezes and where they get reflected light and warmth from surrounding rocks. This creates the warm dry soil that the mikan enjoy.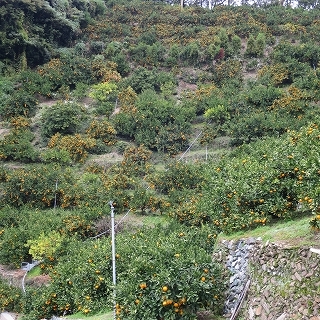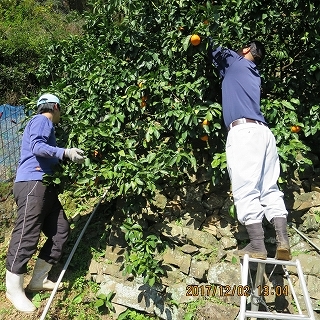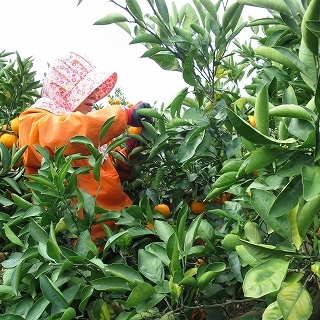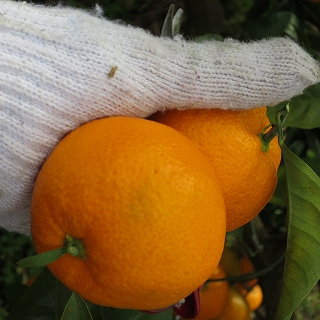 Cut stem two times not to damage the other mikans.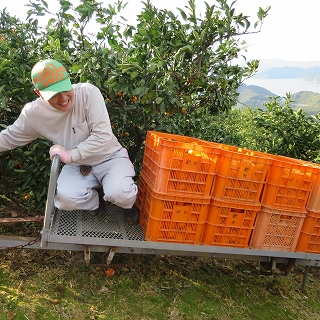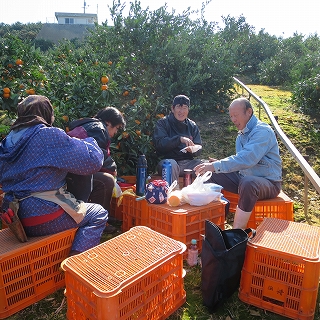 One of the most hard work is to deliver the harvest from the farm. Lunch on the farm.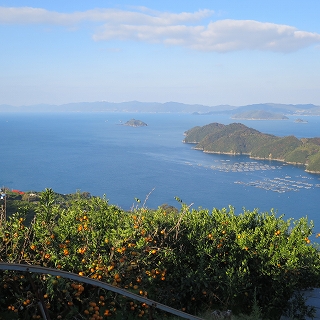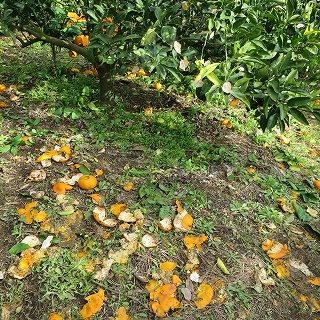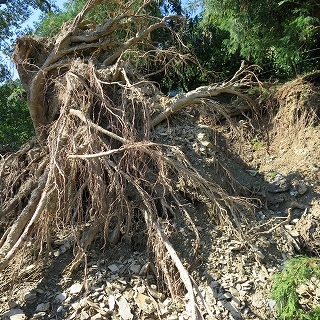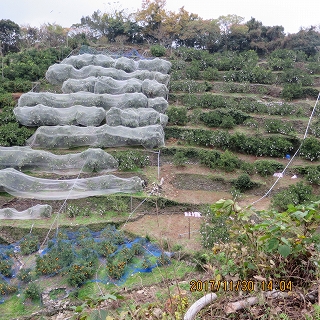 Magnificent view of Uwakai (the pacific ocean) from the farm. Damages by wild boar,
typhoon, and birds
The farmer's work on Mikan farm throughout a year.
In January each year the trees are sprayed to protect them against insects and disease. This spraying is repeated at various times until just before the mikan are harvested in September. Old trees are cut down and removed to clear and tidy the orchard.
In June some of the mikan are picked and the trees are pruned to improve the size and quality of the remaining crop. The grass in the orchard is cut throughout the year to keep it tidy.
I have been working at my friends farm, where mikan are grown, for three years and would like to tell you about my time there.
A day in the life of a farmer's wife during the harvest season:
5:00 am Get up and prepare food boxes for father-in-law's breakfast and lunch.
6:30am Drive to the farm.
7:00-7:30am Start work on the farm.
10.00am Serve tea to the other farm workers.
4:00pm Finish work on the farm.
She then returns to the house to prepare dinner.
After this she will go to the warehouse where she will sort and pack the mikan.
9:00pm She will have dinner and a bath before washing clothes and any other housework.
1:00-2:00am She will be doing the accounts.
For the two months of the harvest season the farmer's wife will only have three or four hours of sleep per night.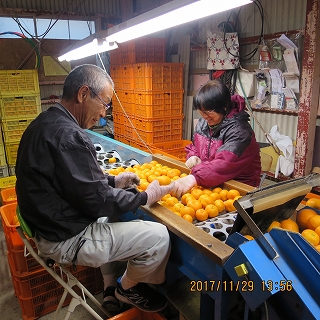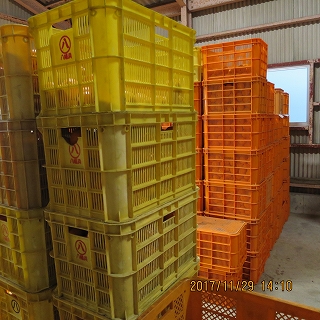 After work on the farm, work in the warehouse. Sort mikan needs the experience for long time.
The farmer knows how hard farm work is and thinks about their son being a farmer as he wouldn't like to be a farmer again in his next life.
Mikan farms are now reducing in numbers and are going to waste. They are vulnerable to damage by wild boars and other animals as well as severe weather. This year much damage was caused by a typhoon.
I think any country in which farmers can't make a reasonable living or are not supported by government to protect agriculture is not good and has no future. After all food is the source of human life.